Space Resources Roundtable X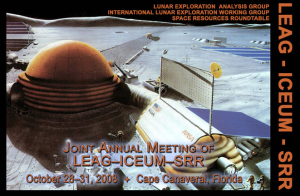 &nbsp





The Tenth Space Resources Roundtable was held at Cape Canaveral, Florida in October, 2008.

Presentations made available from that conference may be reviewed below.

---
Proceedings
---
Presentations made at the 2008 joint LEAG-ILEWG-SRR meeting may be viewed through this link.


Print-only paper submissions may be viewed below.


---
Print-Only Paper Submissions
---

G. Rodriguez, F. Slane
Integrating a Modular Excavator as a Smart Tool into the Space Exploration Infrastructure using mall Satellite Systems Protocols
Documents

&nbsp 1.3 mb